Top 10 best baby milk powder in the world
A newborn baby comes with a little bundle of joy and happiness, as parents you can never make a wrong choice. They are delicate and fragile that needs intensive care. When it comes to feeding your baby, breastfeeding definitely comes first because it has every nutrient which will promote a good growth and health of the baby. But in case your baby is not full even after breastfeeding or you don't have enough supply of it, infant formula milk powder is the most reliable option.
Although buying the best rather correct milk powder formula for your little one is quite of a task. Parents often get confused while buying it and can't find any suitable options for the baby because there are varieties of formulas available in the market. However, consulting the paediatrician regarding the suitable product is what you should do first and let your doctor pick the product for the baby. So, let's check out the list of 10 best baby milk powder in the world that works as the best supplement for your newborn baby.
Here is the list of of Best Baby Milk Powder Formula Brands
Lactodex
Lactodex is one of the reputed milk powder brands of India. This product contains high nutritional value and promotes a healthy and normal growth of the infant. If your newborn baby is underweight or a premature baby (born before 37 weeks), then this is a must use baby powder formula for your child. The Lactodex is yet another amazing formula for infants above 6 months of age.
Nestle Nan Pro 3
Nan Pro 3 is a spray dried infant formula for infants above 12-18 months of age group when they are not breastfed. This brand contains ingredients like Low erucic rapeseed oil, Coconut oil, High oleic sunflower oil, Sunflower oil, Minerals, Soya lecithin, Vitamins, Nucleotides and Acidity regulator (Citric acid). You can buy the product online at any supermarket near you. Nan is also considered as the best baby milk powder in India.
Similac Advance Non-GMO
Similac Advance is the top baby formula brand in the United States. This formula is given to the baby during its first year. It contains all sorts of nutritional value that can promote a good and healthy growth of the baby. It contains special nutrients found in the breast milk that are important for helping support baby's brain and eye development. It has OptiGRO, blend of DHA, Lutein and Vitamin E. Similac is the first leading infant formula brand with no artificial growth hormone.
Enfamil A+
Enfamil is the #1 Infant Formula brand recommended by paediatricians. The milk powder contains DHA and ARA for developing the brain of your newborn child. It is a must pick for your baby during his growth age. It also has dietary fibres like GOS and polydextrose along with whey proteins and casein.
Happy Tot Grow and Shine Toddler Formula
This is premium organic toddler milk for babies of 12-24-months-old. It is mainly formulated to support your toddler during its vital times and helps to protects and strengthen your baby's immune system. It has organic non-GMO ingredients and nutrients of DHA and ARA to help support brain and eye development, with 35% daily value of calcium and 20% daily value of iron.
Nutrilon 1 Standard
Nutrilon 1 Standard is another popular brand of India with a wholesome diet with a combination of proteins, vitamins and minerals. This milk powder makes the bones of the baby stronger and also helps in the development of the brain.
Earth's Best Organic Baby Powder
This is an organic dairy infant formula for babies with low lactose sensitiveness. It is easy to digest and nutritionally rich for baby's first 12 months. It has Omega-3 DHA and Omega-6 ARA fatty acids which are naturally found in breast milk to support brain and eye development and iron for healthy development plus overall growth and immunity protection of the little one.
Aptamil First
Aptamil first is one of the trusted baby milk powder formulas of India. It contains prebiotics, antioxidants, nucleotides, and 2 LCPs to provide optimum nutrition for infants. Apart from that, it is a perfect substitute for breast milk for baby's who don't get their share of breastfeeding. This product is easily available in any supermarket and medical shops.
Gerber Good Start
This non-GMO formula is good for baby's who are unable to consume other brands. It contains easy to digest proteins; carbohydrates blend with 30% lactose and probiotic L. Reuteri. It also reduces colic and gas symptoms that sometimes lead to baby's physical distress. It has been clinically shown to reduce crying time by 50% in colicky breastfed infants. You can feed this formula to baby's within 12 months from the time of birth.
Dexolac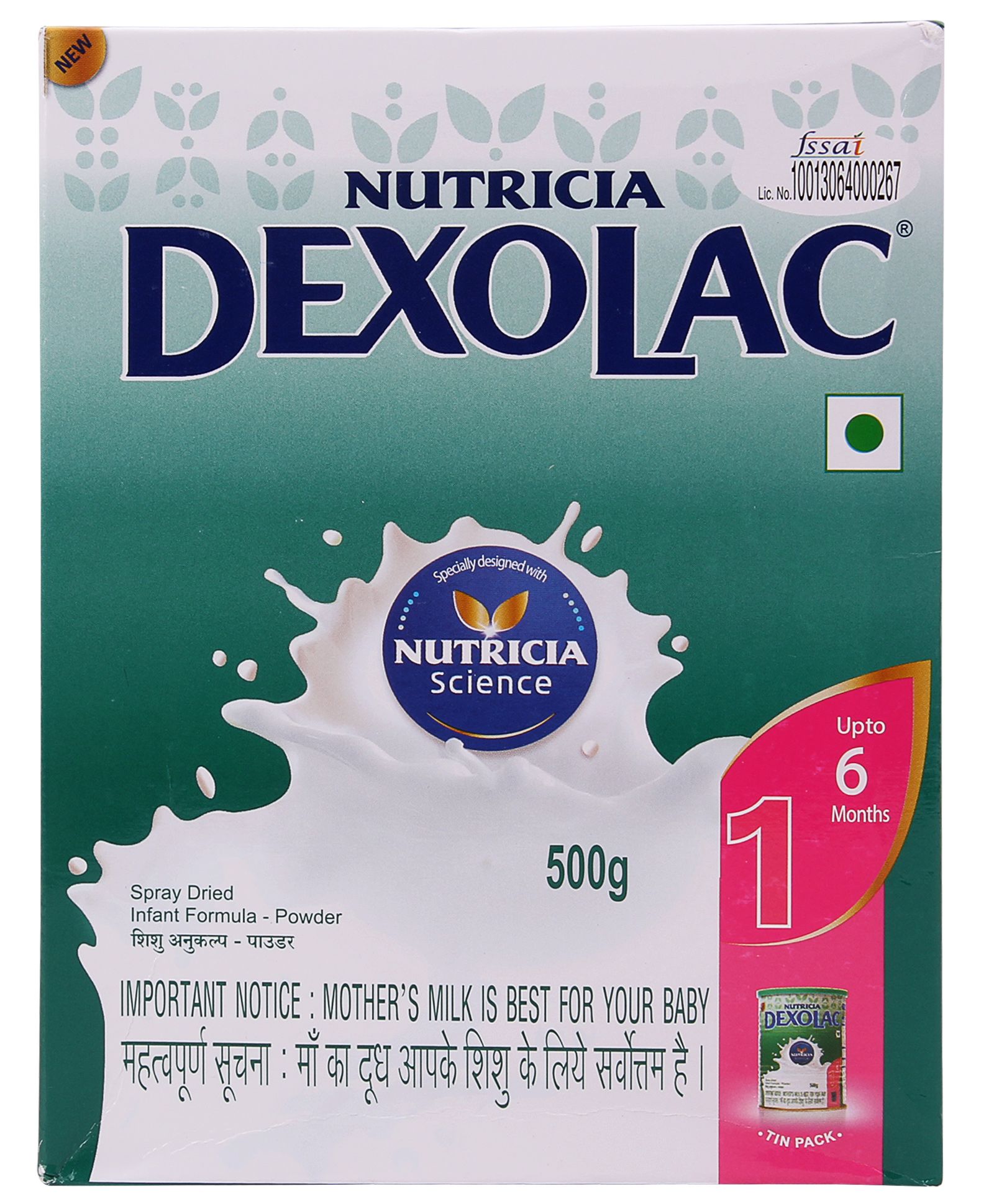 The Nutricia Dexolac formula boosts the immune system, brain development, digestive health and strong bones in infants. It has a higher content of lecithin and amino acids to improve the overall growth of the baby. Dexolac is suitable for babies in the 0 to 24 months age group. You can start with Dexolac Premium 1 and then slowly move on to Dexolac 2.