Comedy movies are the heart of Bollywood. Bollywood without comedy is "JAL BIN MACHLI". NO doubt Indian Cinema has given us priceless comedy movies that we still cherish and laugh at them. In the early '90s Indian Cinema has got the best of it's comedy movies. From Chup Chup Ke to 3 Idiots Indian Cinema really succeeded in making every Bollywood fan laugh!
Here are the Top 10 Best Comedy Movies of Bollywood
ANDAZ APNA APNA (1994)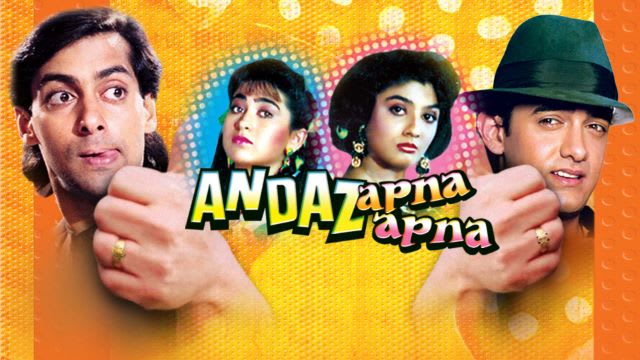 One of the all-time best comedy movies, Andaz Apna Apna was directed by Rajkumar Santoshi casting Aamir Khan,  Salman Khan, Raveena Tandon, Karisma Kapoor, Paresh Rawal. The story is based on two men ( Salman Khan and Aamir Khan ) who are not rich but have big dreams and both fell in love with two girls namely Raveena and Karishma . Raveena father who turns out to be a local gangster adds on spice into their love story  and  the trouble and fun begins from there!
HERA PHERI (2000)
This hilarious movie was directed by Priyadarshan which did wonders in Indian Cinema. The movie cast was as follows Akshay Kumar, Paresh Rawal, Sunil Shetty, Tabu, Om Puri, Gulshan Grover, Kulbhushan Kharbanda, Mukesh Khanna.  The movie revolved around a Trio that did nothing but only created troubles and always found a way to get out of the same! Hera Pheri deserves to be included in top 10 best comedy movies of Bollywood.
3 IDIOTS (2009)
No one could ever imagine that a movie like 3 Idiots ( AAMIR KHAN, R. Madhavan, Sharman Joshi) would release and will shake the entire Bollywood. It is an amazing comedy based on real life problems and situations that students face and the way how a practical man should handle those situations! Because life is a race and we all are a ''BROKEN ANDA"
CHACHI 420 (1997)
Kamal Haasan directed this amazing movie casting Kamal Hassan, Tabu, Amrish Puri, Paresh Rawal. The plot revolved around a father in law who fell in love with his son in law who dressed up and stayed as a lady and the story continued till his reality was exposed. That is why the movie is named after Chachi 420 as she disguised everybody and used a fake identity to make her presence existing.
GOLMAL (2006)
The golmal series is the funniest series that made every kid's childhood amazing. The plot twisted around 4 boys lying to an old blind couple as their grandson Gopal and his friends. They take support of a lie and take advantage of the couple and later on they fell in love with a girl and the story take many twists and turns.
COOLIE NO.1 (1995)
The film focuses on a coolie namely Raju (Govinda) who works at a bus stand and wishes to get married later on. He falls in love with Karishma Kapoor and her father was against the marriages of rich and poor people. The whole plot is a fun watch and bewilders and excites everyone to know more about the story!
CHUP CHUPKE (2006)
One of the staggering directions and emotionally amazing plot! An unhappy man who gets rid by a lot of debt tries to attempt fake suicide to make his family able to pay his debts with his own insurance money , but destiny has other plans for him and fortunately he lives his life supporting a lie and fall in love with a girl. Shahid, Kareena and undoubtedly Rajpal Yadav did perplexing acting in this movie and stole every viewers heart.
PYAAR KA PUNCHNAMA (2011)
One of the amazing movies based on relationships and the problems with Indian Couples. Three friends realise the best and worst things of being a couple after getting in a relationship. The story is a fun to watch one where three friends ( Rajjo, Nishant, Vikrant)share different experiences of their relationships and troubles and problems one deals being in a relationship.
MUNNA BHAI MBBS (2003)
Munna ( Sanjay Dutt) wants to fulfil his father's dream to become a doctor. He takes help from his friend Circuit and attempts wrong ways to get admission in a medical college. He gets admission and then, later on, gets a fake degree as well and ends up being a bad doctor and treating patients like a Don. The hilarious story drives everyone crazy as it shakes the whole history and geography of the medical profession!
DHAMMAL (2007)
A man who is dying tells four friends about the hidden money under a "Big W' which gives them a hope to become rich. They keep on finding the money and face a lot of problems and troubles and deals with every double-trouble to reach the money. But there is no way to get rid of lies and unfortunately, a policeman tries to catch them and create an unexpected comedy. Dhamaal is a hilarious comedy movie and still among the top 10 best comedy movies of Bollywood.